BAISAKHI CELEBRATION
Every year, 'Baisakhi' is celebrated at Banasthali Public School on 13th April, with traditional fervour and gaiety. The shades and customs of Baisakhi are showcased for students. They are explained about the importance of the harvest festival. Punjabi theme is followed on this day, as the students come in colourful Punjabi dresses and relish Punjabi food. Various craft activities are conducted by the art teachers to acquaint the students with the cultural heritage of the motherland. Dhol beats and Punjabi folk music adds to the fun and excitement.The children get instilled with a feeling of pride in their own culture through fun activities.
EARTH DAY CELEBRATION
"When we care for earth, we care for ourself." Banasthali Public School celebrates Earth Day with the same enthusiasm every year in School Premises. Children participate in various activities which are conducted for the occasion. Teachers & Students take oath to plant at least one tree every year. 'Go Green' becomes the slogan of the day. The students & their parents are urged to not only thrive to maintain the beauty, health, and piousness of Earth, but to also aware the society regarding the same objectives. Students of all classes show their marvellous involvement by doing various activities and feel proud to contribute in preserving Mother Earth. Competitions like Self-composed Poem writing, Article writing, beautiful posters making are organised so that the students can express their love for mother nature.
SUMMER CAMP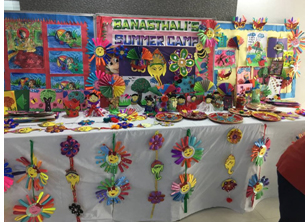 To capture the spirit of Fun and Education together, where kids take a break from T.V., cell phones, and the Internet to rediscover their creative powers, two weeks Summer Camp was conducted successfully in the School premises for Banasthalians. It has been another feather to the cap since it is the third consecutive year for which the Banasthali Summer Camp team has accomplished its motive of instilling talent in the young ones and creating records of teaching, a series of Art and Etiquettes and giving a fine finish within fifteen days. Students and all the staff members enjoyed every minute of Summer Camp.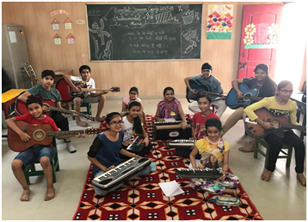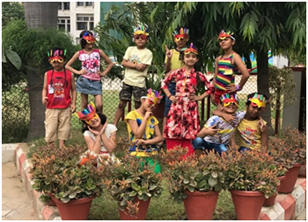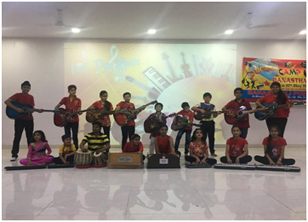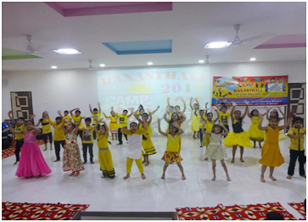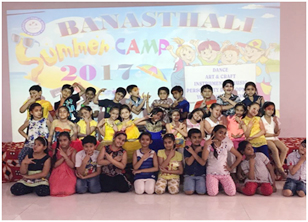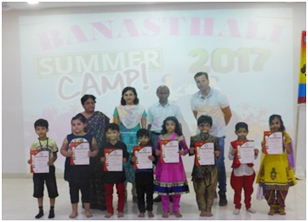 SCIENCE WEEK
"Banasthali Science Week" is celebrated in every Session, which carries wide array of activities like science Quiz, Science Toon, Science Exhibition. Science Projects are displayed by little scientists of Banasthali. The aim of the aforesaid exhibition is to provide an opportunity to the students to present their aesthetic ideas, passion and creative innovations.
The winners are awarded and appreciated by Chairman Sir, Principal Ma'am and other senior dignitaries.
INDEPENDENCE DAY
Patriotism is not a badge that you should carry on your shoulder. You should carry it in your heart. Independence Day is always rejoiced with a colourful cultural programme which includes speeches, patriotic songs, dances and plays. The glory of the nation is celebrated with lots of Zeal and Enthusiasm in School premises with unfurling and hoisting of the National flag by Honourable Chief Guest Dr. Vijaya Rani in presence of Revered Chairman Sir Dr. V.K. Goyal, Respected Principal Ms. Anubha Goyal & other dignitaries. The Atmosphere gets resonant with National Anthem, National Song, and beautiful nationalistic tunes. Students come dressed up in Traditional and Tri-colour attires. Some of them dress up like National leaders, Heroes, Patriots & many more. They Present Speeches, Mesmerizing Patriotic Songs & Energetic dances on nationalistic songs.
COLOURFUL CREATIONS TO WELCOME DIWALI
Rangoli making is a tradition passed on from generation to generation. A Rangoli competition is organized on the occasion of Diwali. The objective of the Competition is to disseminate the culture and tradition among our dear students. They are fortified to celebrate Green Diwali. Maj. Gen. M. C. Gupta Memorial Hall of the school building is transformed into a large canvas reflecting colourful creations and detailed designs. Mesmerizing & traditional Rangolis are prepared by the students. Winner students are awarded by the School Management.
VASANTOTSAVA
VASANT PANCHAMI marks the beginning of the spring season and is celebrated to worship Goddess Saraswati, the symbol of knowledge and wisdom. All Banasthalians, i.e., Teachers and Students wear Yellow (Vasanti Coloured) attires. Saraswati Pooja followed by Hawan is organised in School Amphitheatre called "VARDA PRANGAN" which is beautifully decorated with yellow flowers.
DISASTER MANAGEMENT: MOCK DRILL: FIRE & UNFORESEEN NATURAL CALAMITIES LIKE EARTH QUAKE ETC.
Banasthali Public School frequently keeps conducting Mock Drill Exercises for the students under the guidance of experts in handling fire break out and Natural calamities like Earth quake etc. with in the school premises or at any other place. The students are instructed to gather in ground as soon as the siren rings via safe building evacuation plan prepared by experts. The students are guided about the maintenance and use of different types of fire extinguishers in case of fire breakouts. Live experience of handling the fire extinguishers is given to students. Students are trained to be alert, quick, not to panic and responsive, if such an incident happens around them. The students feel secure and optimistic after the drill and training session. The motive of conducting such mock drills is to bring awareness among students; how to act during any such emergency. It is indeed an effective way to guide and prepare students to remain safe during any fire or Natural disaster in future.